Dash Off with Agility in the New 2016 Nissan Juke – Applewood Nissan Surrey
June 22 2017, Applewood Nissan Surrey

If life were a board game, then the 2016 Nissan Juke would be your piece to take you across the map.
That's right; Nissan's most cutting edge crossover is back for another new year, and it's got a lot to show you. Find it in Surrey, British Columbia, here at Applewood Nissan.
The new Juke is much more than just its colour-customizable body, wheels, mirrors, side sills, and door handles—strip away all of these eye-catching accents and what you are left with is a vehicle with a mighty base engine, enough room for five, and a stellar reputation for safety. It's the perfect family vehicle for getting around in B.C.
If you were interested in testing out the new 2016 Nissan Juke on the road, we'd be happy to accompany you on a test drive and highlight all of its new features. Of course, we also carry plenty of pre-owned Juke models from recent years in our Used Nissan Inventory, making owning such a unique looking crossover as affordable as possible. Whether you live in Surrey, or elsewhere in the surrounding area, Applewood Nissan is your top destination for the new Nissan lineup in the Metro Vancouver Region.
2016 Nissan Juke Performace & Economy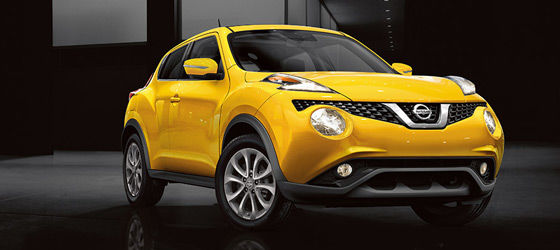 There is one great engine that powers each and every new Juke model, but two ways to set it up. The 1.6L Inline-4 engine provides plenty of pep at its base setting, harnessing 188 horsepower and 177 lb-ft of torque. The Nismo RS trims use the same engine but get a supercharged result: 215hp and 210 lb-ft of torque with the FWD setup, and just slightly less for AWD models (a feature available with each trim). There is also a 6-speed manual transmission option for those who would prefer that to the more common CVT: the manual motor wins the race to be the leanest and greenest, delivering the best fuel economy of the bunch at 6.9 L/100km on the highway and 8.4 in the city.
2016 Nissan Juke Interior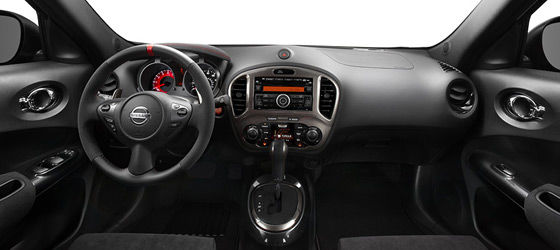 Inside the 2016 Nissan Juke you'll find 36 cubic feet of cargo space. But that's after you discover everything else, first. The interior is as brightly and boldly styled as the exterior, with aggressive curves, colour accents, and plenty of personality. Of course, all of the luxuries you would expect in this kind of a ride are available in the lineup: touchscreen navigation, power sunroof, standard keyless ignition, leather-wrapped steering, and more. The question is, will there be any limit to your ambition?
2016 Nissan Juke Safety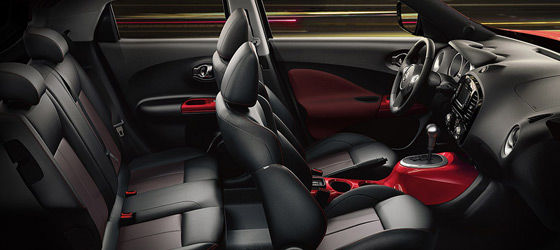 Monitor, Respond, Protect. This is the outlook of the 2016 Nissan Juke, which strives to protect its passengers in the three most crucial aspects of safety. Starting with a solid foundation of anti-lock disc brakes operating in conjunction with stability and traction control, the Juke keeps you surefooted and in command at all times. Six standard airbags allow for protection in both the front and rear seats, while a rearview camera is standard on all models, giving you eyes in the back of your head, without the expensive surgery.
Nissan Juke Parts & Accessories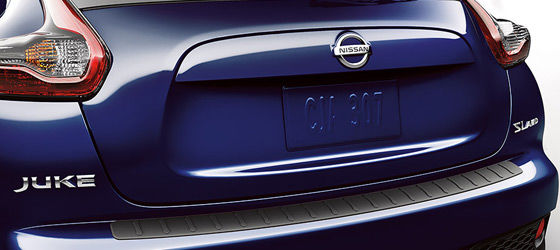 The Nissan Juke has one of the most colourful personalities out of any car on the market. Why not make the most of it with the right parts or tailored accessories from the Applewood Nissan Parts Centre. Whether you are looking for cosmetic upgrades to your exterior lights, door handles, or mirrors, or even some new Nissan Juke wheels and rims, we've got you covered. And don't forget about the inside: from sport pedals to cargo liners to ashtrays, we've got it all! Order your parts online today.